You are here:
Main content:
M.Sc.
David Schindler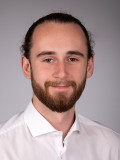 Personal Data
Doctoral Researcher for Textmining in Research Data Management in CRC ELAINE
Research Group Signal Theory and Digital Signal Processing
Curriculum Vitae
2013 - 2017 B.Sc Computer Science, University of Tübingen, Tübingen
2017 - 2019 M.Sc Computer Science, University of Rostock, Rostock
since 2019 Doctoral Researcher at the Institute of Communications Engineering, University of Rostock
Research Interests
Provenance Modeling
Text Mining
Natural Language Processing
Publications
Articles:
Schindler, D.; Bensmann, F.; Dietze, S.; Krüger, F.:
The role of software in science: a knowledge graph-based analysis of software mentions in PubMed Central.
In: PeerJ Computer Science, vol. 8 (1/2022)
doi:10.7717/peerj-cs.835
Krüger, F.; Schindler, D.:
A Literature Review on Methods for the Extraction of Usage Statements of Software and Data.
In: Computing in Science & Engineering, vol. 22, no. 1 (1/2020), pp. 26-38
doi:10.1109/MCSE.2019.2943847
Contributions to Collections:
Schindler, D.; Zapilko, B.; Krüger, F.:
Investigating Software Usage in the Social Sciences: A Knowledge Graph Approach.
The Semantic Web.
no. 12123, pp. 271-286, Heraklion, Greece, Springer International Publishing, 2020
ISBN: 978-3-030-49461-2,
doi:10.1007/978-3-030-49461-2_16
Contributions to Proceedings:
Schindler, D.; Bensmann, F.; Dietze, S.; Krüger, F.:
SoMeSci - A 5 Star Open Data Gold Standard Knowledge Graph of Software Mentions in Scientific Articles. Proceedings of the 30th ACM International Conference on Information and Knowledge Management (CIKM '21), Virtual Event, QLD, Australia, 2021