You are here:
Courses: Summer Semester
Main content:
Projektseminar Funkkommunikation
Modulnummer: 24205
Thema: Richtungsschätzen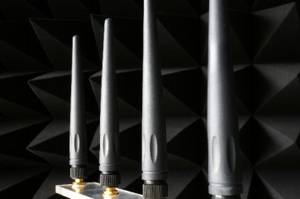 Im Sommersemester wird das Projektseminar Funkkommunikation mit dem Themengebiet "Richtungsschätzen" angeboten. Homogene Sensorarrays wie zum Beispiel Gruppenantennen bestehen aus mehreren gleichartigen räumlich verteilt angeordneten Sensoren. Wenn eine Welle aus einer einzigen Einfallsrichtung auf ein derartiges Sensorarray trifft, werden die Messwerte an allen Sensoren bis auf eine Zeit- beziehungsweise Phasenverschiebung gleich sein. Umgekehrt kann man aus diesen Phasenverschiebungen die Einfallsrichtung schätzen. Sensorarrays und speziell das mit ihnen mögliche Richtungsschätzen haben vielfältige Anwendungsgebiete:
Mobilfunk
Aufklärung
Radar
Sonar
Geologische Exploration
Im Rahmen der das Projektseminar begleitenden Vorlesung werden die zum Studium aktueller Forschungsliteratur auf dem Gebiet des Richtungsschätzens notwendigen mathematisch-technischen Grundlagen vermittelt. Weiterhin werden die elementaren den Stand der Technik repräsentierenden Grundverfahren des Richtungsschätzens diskutiert. Im Rahmen der Praktikumsveranstaltung sollen die in der Vorlesung vorgestellten Richtungsschätzverfahren experimentell untersucht werden. Hierzu sind Messungen und Simulationen mit Matlab durchzuführen.
Abschließend ist als Leistungsnachweis von jedem Teilnehmer auf der Basis des Studiums eines Zeitschriftenbeitrags ein Vortrag über ein aktuelles Forschungsthema im Bereich des Richtungsschätzens zu halten.
Die Vorbesprechung findet am Mittwoch, 11.04.2018 in Warnemünde statt:
| | |
| --- | --- |
| Datum: | 11.04.2018 |
| Beginn: | 13:00 Uhr |
| Ort: | Campus Warnemünde, Richard-Wagner-Str. 31, Haus 1 |
| Raum: | SR 1226 |
Geplante Themen
Harmonische Analyse nach Pisarenko

V. F. Pisarenko, "The retrieval of harmonics from a covariance function," Geophys. J. Roy. Astronom. Soc., vol. 33, pp. 347-366, 1973.

Cyclic MUSIC

S. V. Schell, R. A. Calabretta, W. A. Gardner, and B. G. Agee, "Cyclic MUSIC algorithms for signal-selective direction estimation," in IEEE International Conference on Acoustics, Speech, and Signal Processing (ICASSP'89), Glasgow, UK, 1989, pp. 2278-2281.

Beamspace MUSIC

J. T. Mayhan and L. Niro, "Spatial spectral estimation using multiple beam antennas," Antennas and Propagation, IEEE Transactions on, vol. 35, pp. 897-906, August 1987.

Min-Norm-Verfahren

R. Kumaresan and D. W. Tufts, "Estimating the angles of arrival of multiple plane waves," Aerospace and Electronic Systems, IEEE Transactions on, vol. AES-19, pp. 134-139, January 1983.

Alternating-Projection-Algorithmus

I. Ziskind and M. Wax, "Maximum likelihood localization of multiple sources by alternating projection," Acoustics, Speech and Signal Processing, IEEE Transactions on, vol. 36, pp. 1553-1560, October 1988.

Unitary ESPRIT

M. D. Zoltowski, M. Haardt, and C. P. Mathews, "Closed-form 2-D angle estimation with rectangular arrays in element space or beamspace via unitary ESPRIT," Signal Processing, IEEE Transactions on, vol. 44, pp. 316-328, February 1996.
Die Themen werden im Rahmen der Vorbesprechung vorgestellt und vergeben.
Umfang
Das Projektseminar umfasst
eine Vorlesung (3 SWS) und
eine Praktikumsveranstaltung (1 SWS).
Inhalte:
Einleitung

primitive Richtungsschätzverfahren, Anwendungen

Mathematische Grundlagen

lineare Abbildungen, Eigenwerte und Eigenvektoren, hermitesche Formen, Rayleigh-Quotienten, verallgemeinertes Eigenwertproblem und verallgemeinerte Rayleigh-Quotienten, Singulärwertzerlegung, Matrixnorm, Matrixapproximation, Methode der kleinsten Fehlerquadrate (Least-Squares-Verfahren, LS-Verfahren)

Modellierung

Bandpass-Tiefpass-Transformation, Zufallssignale, Gruppenantennen, räumliche Kovarianzmatrix, Spatial Smoothing und Forward-Backward-Averaging (für ULA)

Grundlagen der Schätztheorie

Parameterschätzproblem, Maximum-Likelihood-Schätzer (ML-Schätzer), Maximum-Likelihood-Ansatz für das Richtungsschätzproblem, Beurteilen von Schätzungen, Cramer-Rao-Ungleichung (CRLB), CRLB für das Richtungsschätzproblem mit einer einzigen Einfallsrichtung, lineare Systemmodelle mit Gaußrauschen

Strahlformen

Strahlformungsnetzwerk, konventionelles Strahlformen, Capon-Verfahren

Unterraumbasiertes Richtungsschätzen

MUltiple SIgnal Classification (MUSIC), Root-MUSIC, Estimation of Signal Parameters via Rotational Invariance Techniques (ESPRIT)
Literatur:
J. Foutz, A. Spanias, and M. K. Banavar: Narrowband Direction of Arrival Estimation for Antenna Arrays. Morgan and Claypool Publishers, 2008.
S. M. Kay: Fundamentals of Statistical Signal Processing: Estimation Theory. Upper Saddle River, NJ: Prentice Hall, 1993.
T. K. Moon and W. C. Stirling: Mathematical Methods and Algorithms for Signal Processing. Upper Saddle River, NJ: Prentice Hall, 2000.
P. Stoica and R. Moses: Spectral Analysis of Signals. Upper Saddle River, NJ: Pearson Education, 2005.
H. L. Van Trees: Optimum Array Processing. Vol. 4. New York, NY: John Wiley & Sons, 2002.